2012 Spec Sheets
Using the same "painterly" effect that we utilized for the 2012 New Models brochure, we accentuated the color and focus on the coaches while creating an interesting background for the coaches to be set in. Each coach was photographed in a typical environment for that particular model. The D-Series being more of an urban coach, was photographed on a city street. The E4500 being a touring coach, was photographed on the open road. The J4500, the industry's best-selling coach, was photographed by a landmark suggesting that it takes you to points of interest all over America. We created the headlines to have a 3D glossy paint look to them to compliment the painterly feel of the covers.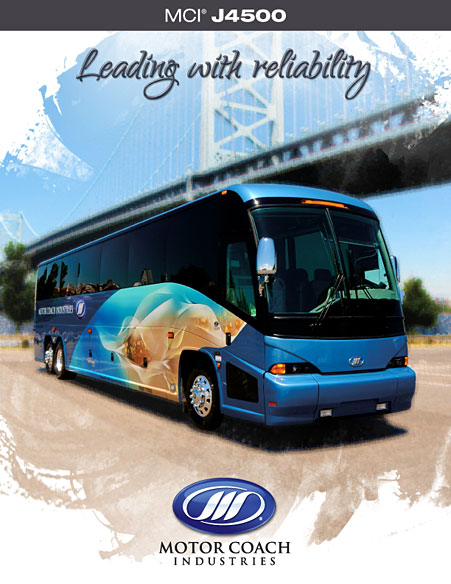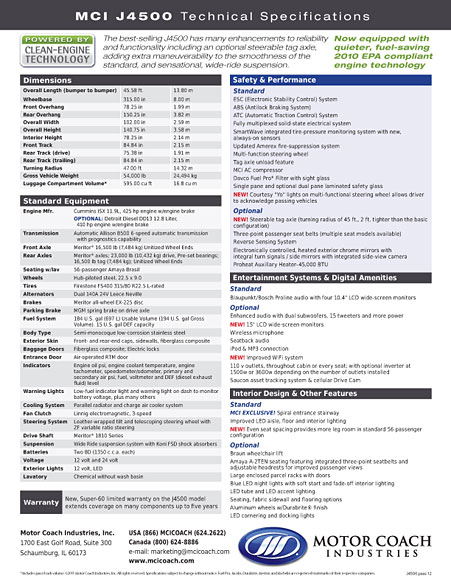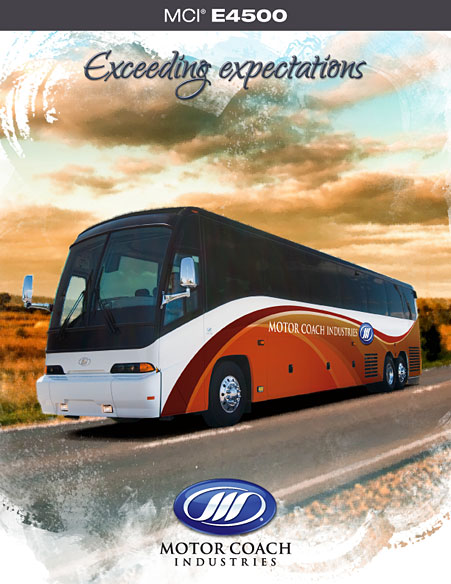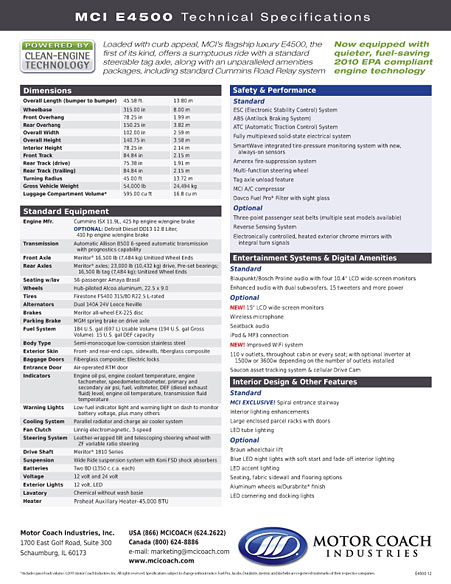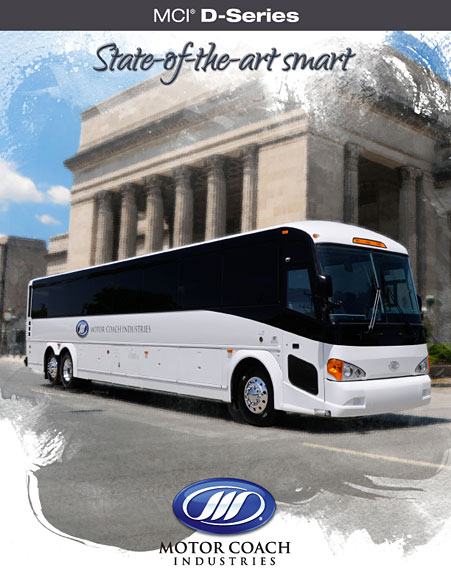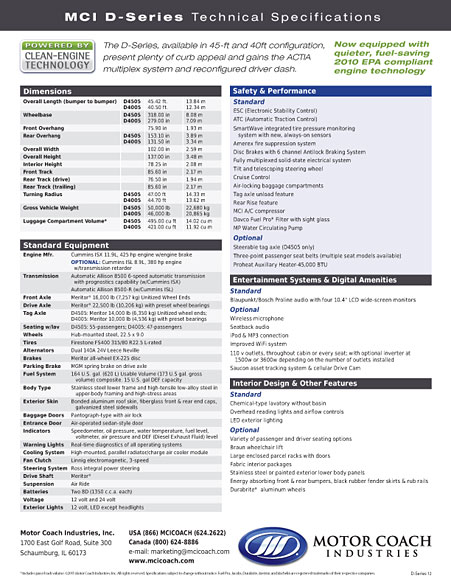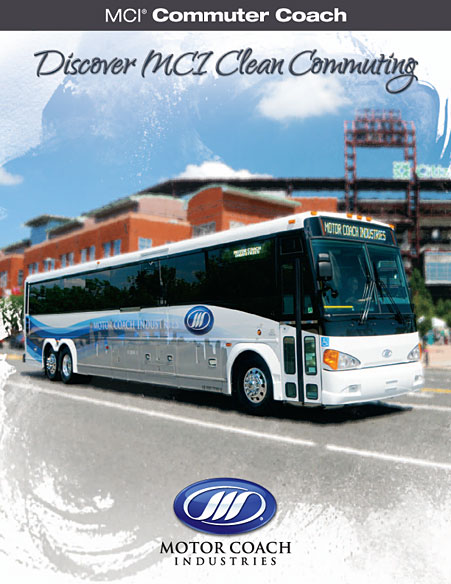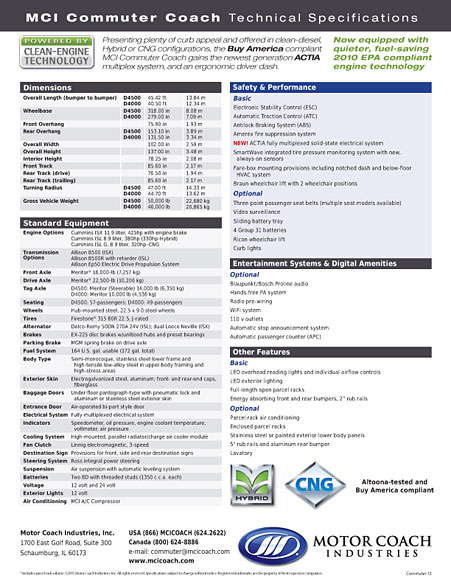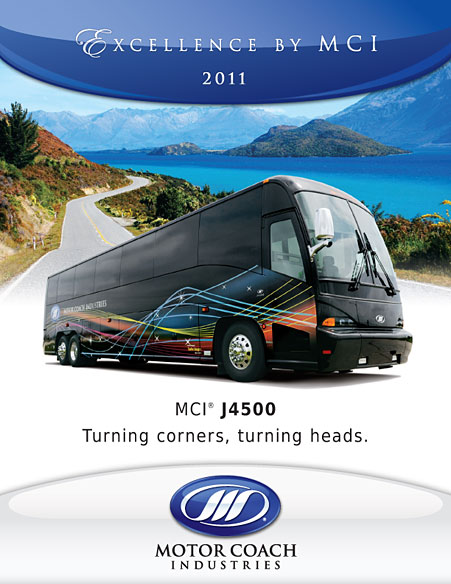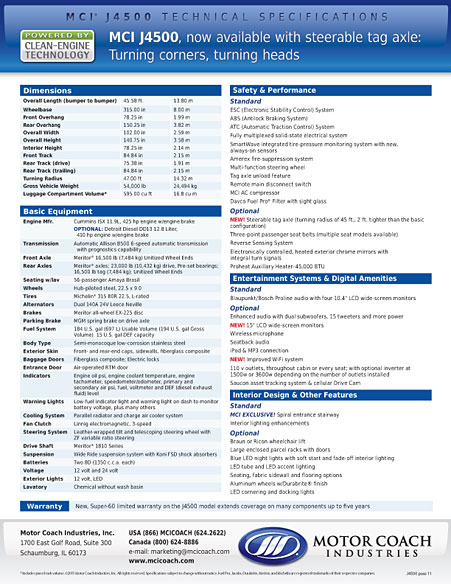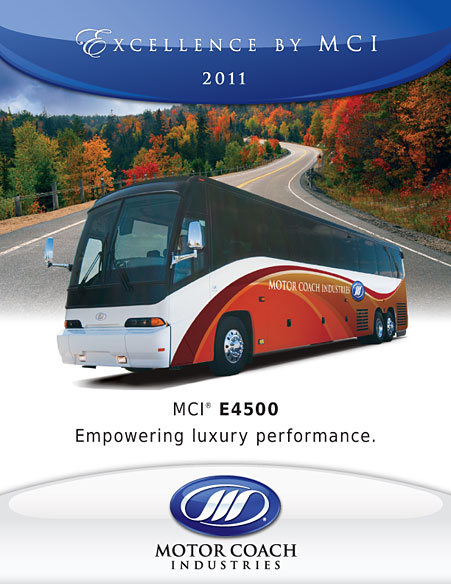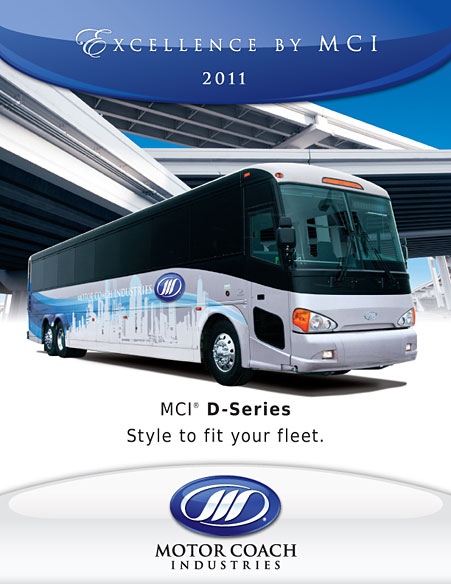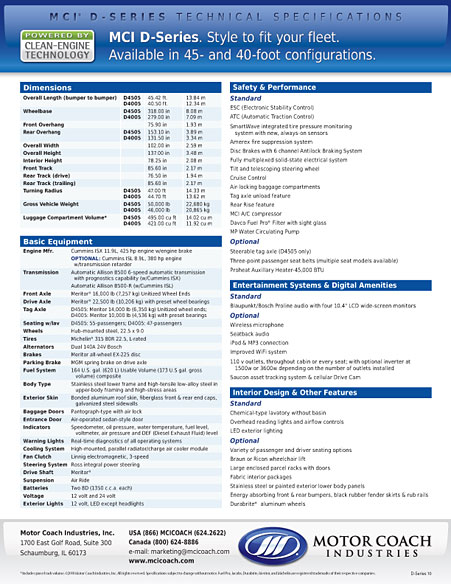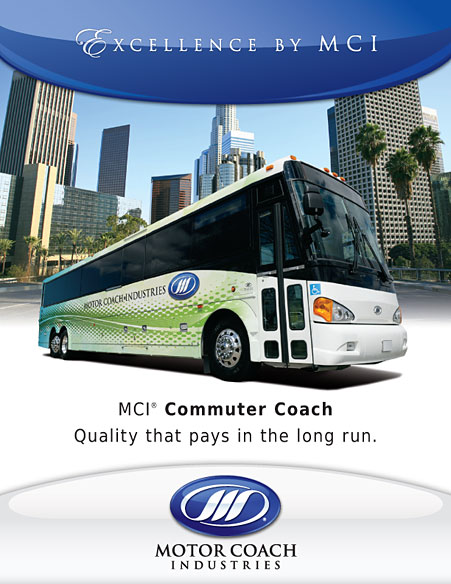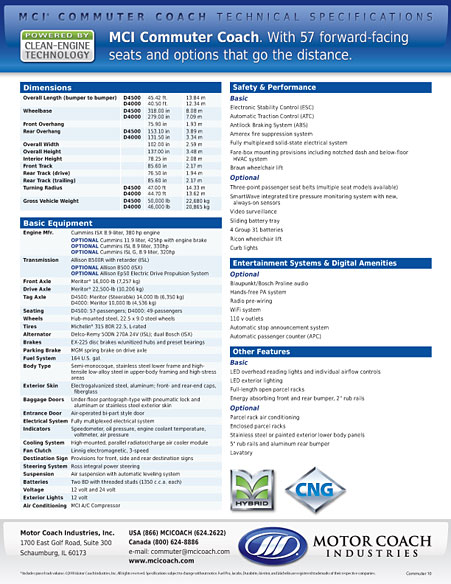 2011 Spec Sheets
These specs sheets were created using existing coach photography as well as stock photography. We also did extensive digital retouching including designing and applying graphics to the coaches, and merging coaches with backgrounds. We created the "glass effect" illustrations used on the front and back. One of the company's high-profile marketing tools, these spec sheets get distributed widely at trade shows and through sales reps.
2010 Spec Sheets
These specs sheets were created using existing coach photography. We performed extensive digital retouching including designing and applying graphics to the coaches, and creating the reflection effect on the black background. We used inset photos on the back to give some visual interest and showcase some of the coaches features. We chose the predominately black background to mirror our design of the 2010 New Models brochure since many of these marketing materials will get seen—and used—together.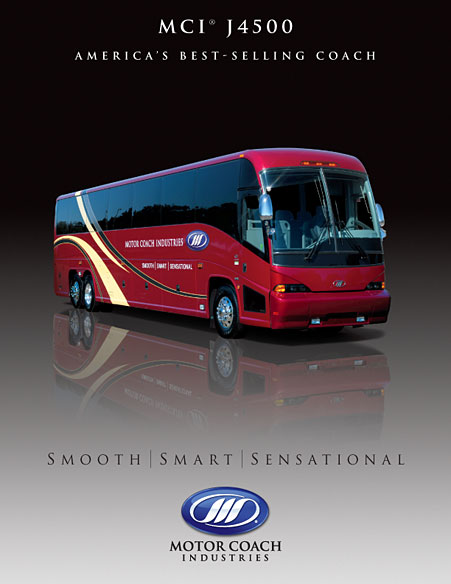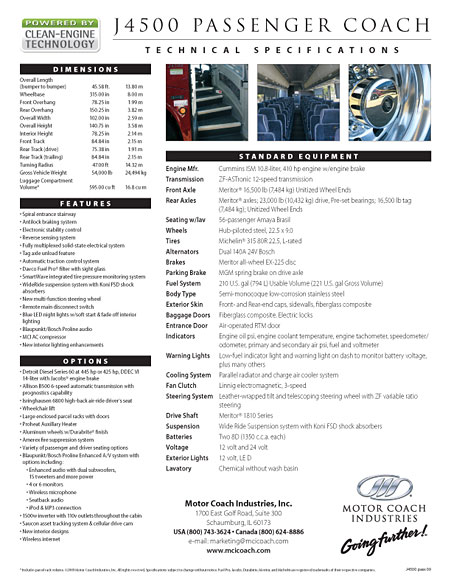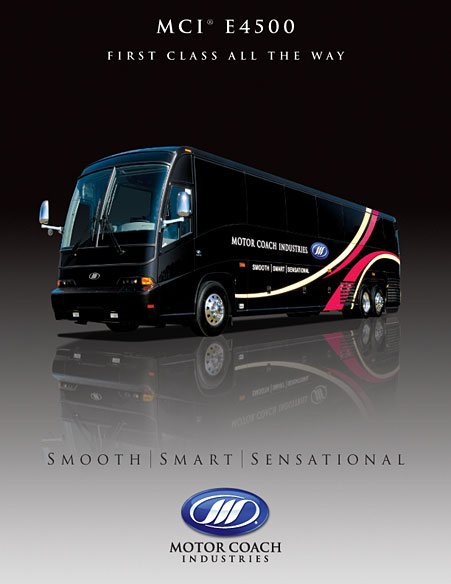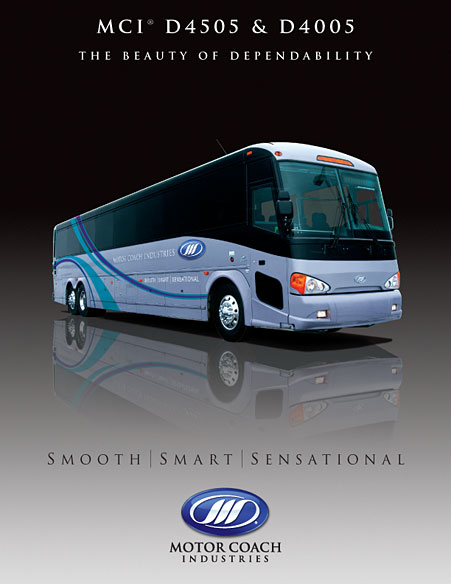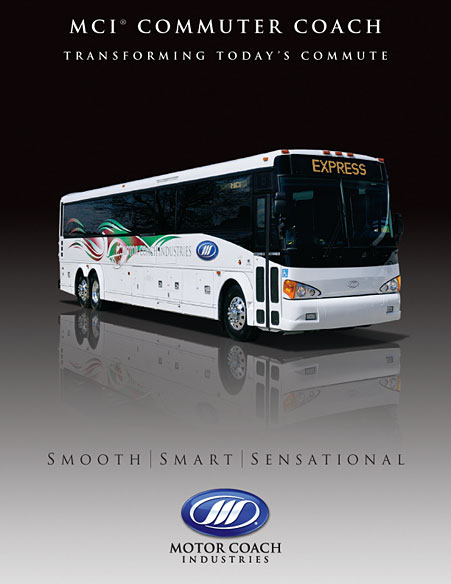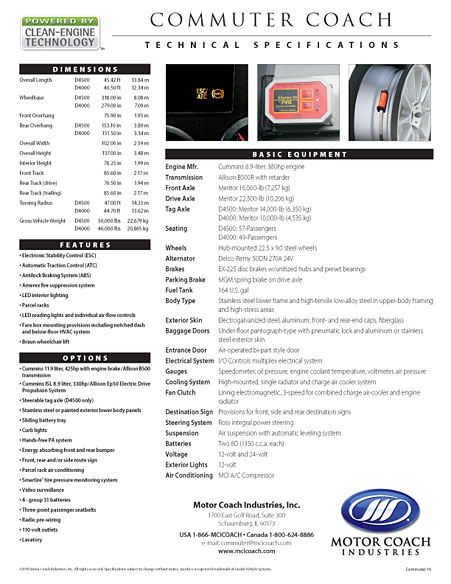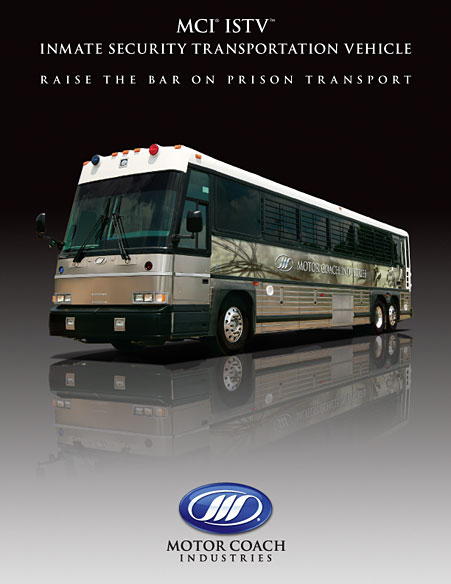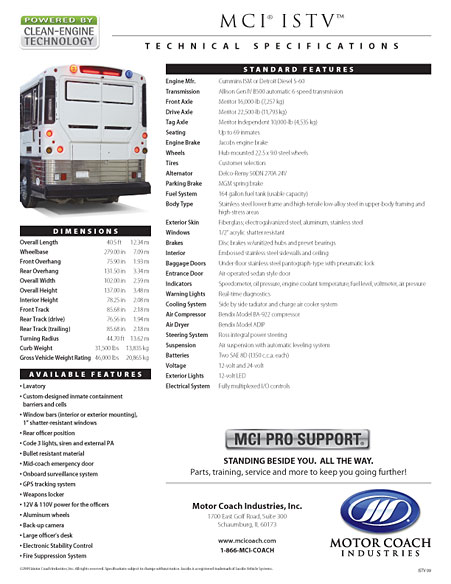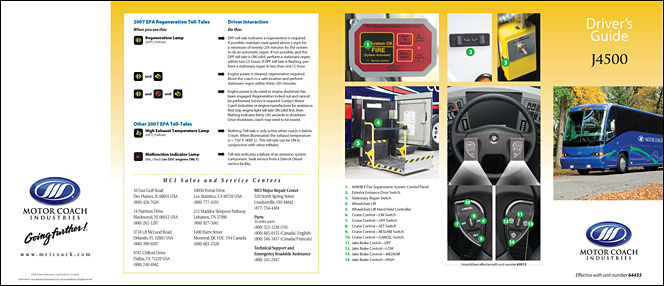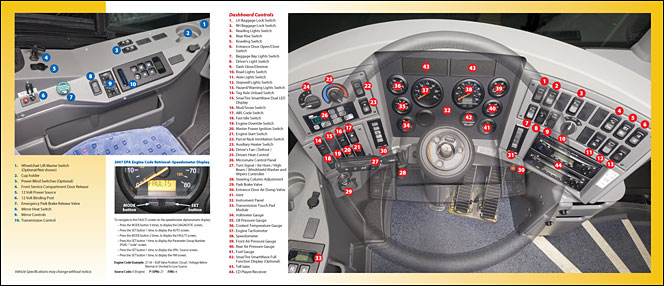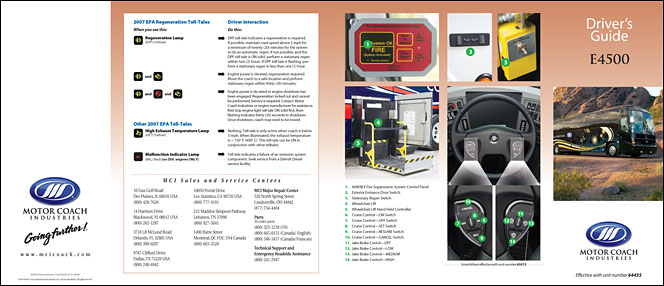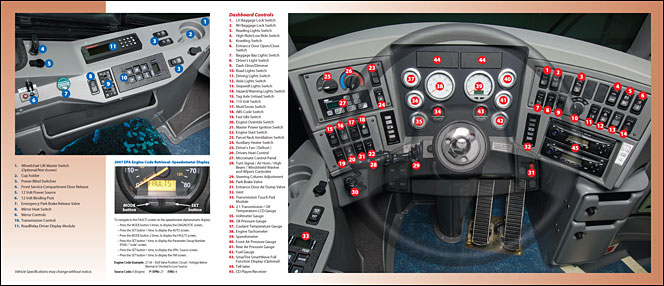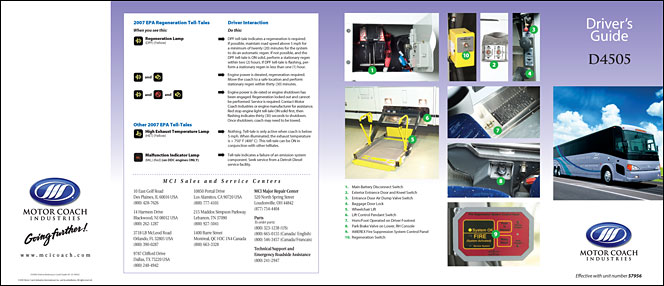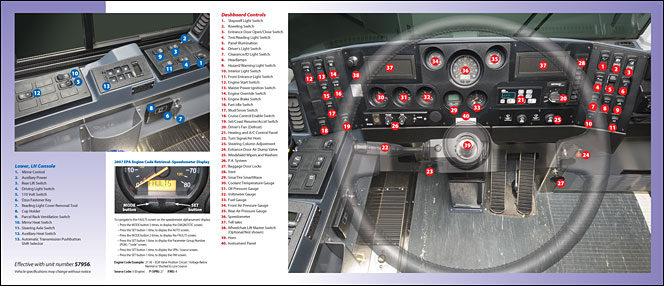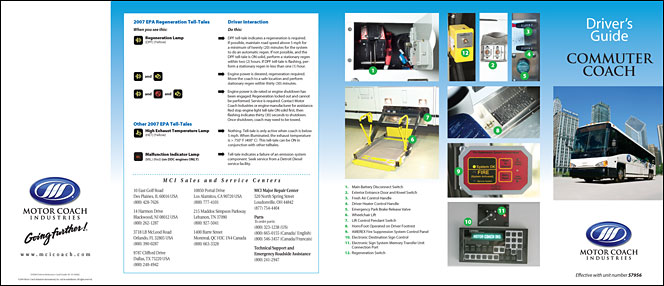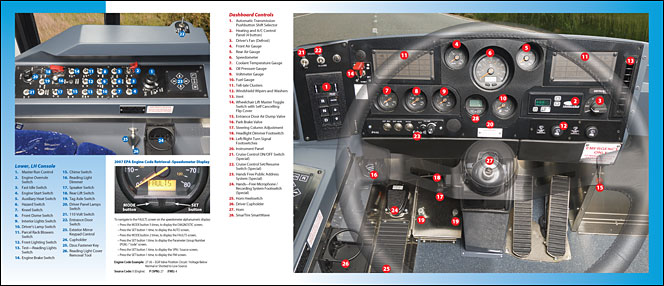 Driver's Guides
These guides are designed for coach drivers to keep in their coach, yet be convenient enough to put in their back pocket if necessary. They are accordion folded for easy usage and laminated for durability. They are visual references for all the essential controls and features of the coach.
Sell Sheets
We design and produce a number of sell sheets (technical marketing flyers) for MCI. They range from 1 page to 6 pages, most being 1 to 2 pages. We usually get some product photography from the client, but then need to digitally retouch it and incorporate stock photography to create an appealing layout. Here are a few samples.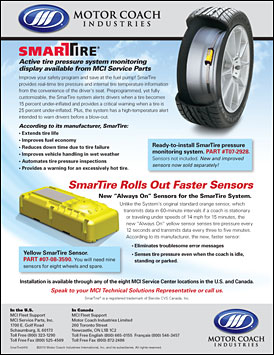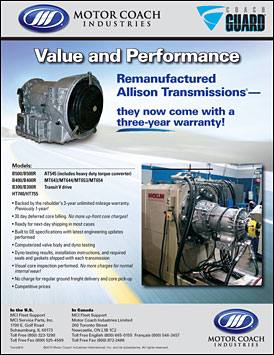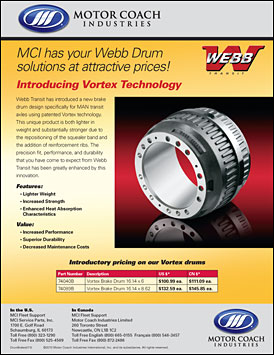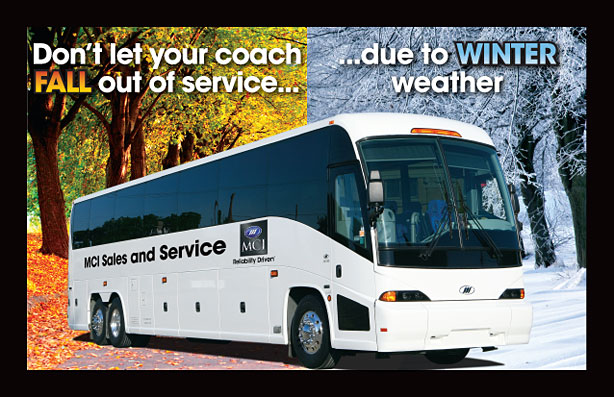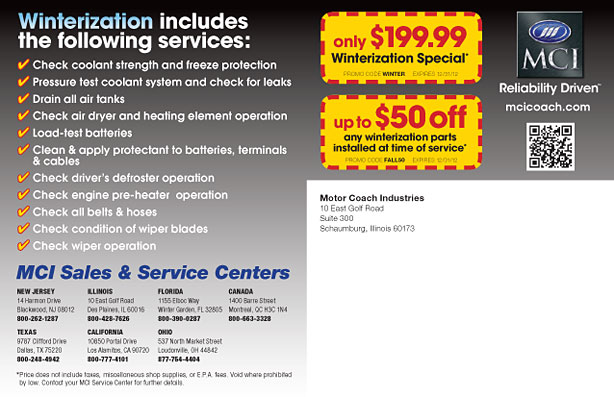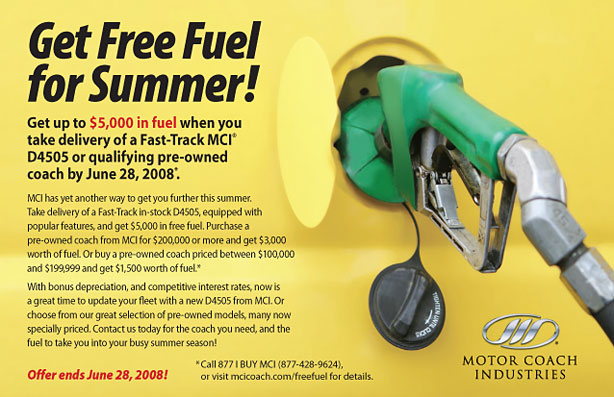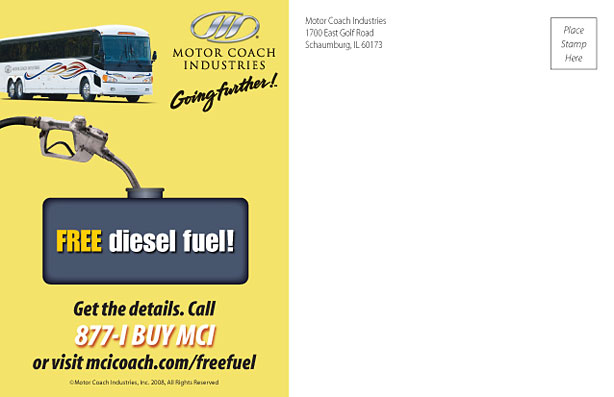 Direct Mail Postcards
These direct mail postcards were designed using existing photography as well as stock photography. There is a good deal of digital retouching involved. These two are a good representation of they types of direct mail postcards we create for MCI.
Church Launch Direct Mail Postcard
The Edge Church was launching in a local movie theater—the kind that you can eat at while you're watching the movie. This church had it's roots as a 20-somethings ministry in a local church and over time they realized God called them to start their own church. We decided to play off the movie theme to capture people's attention and draw them in. We also created complimentary door hangers that had the same graphics and information that were distributed to homes in a 1-mile radius of the theater.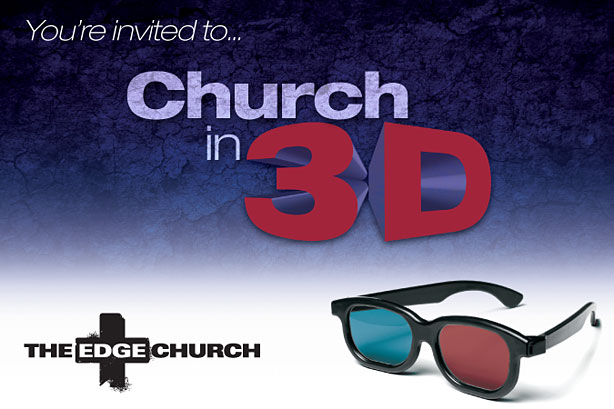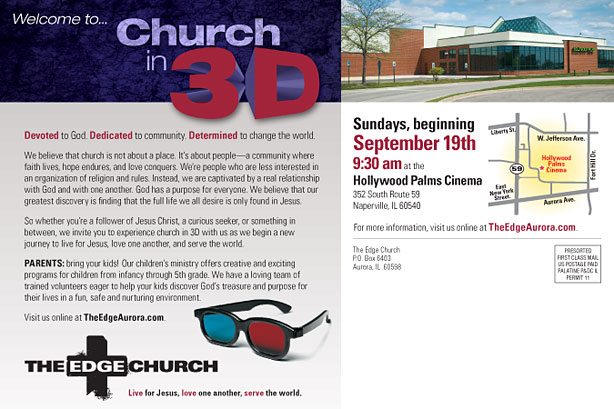 David J. Heyer Law Offices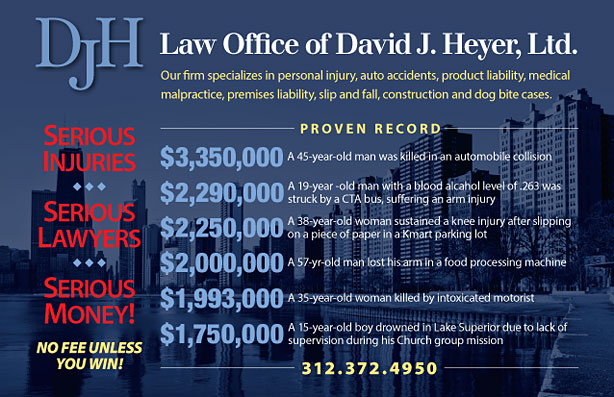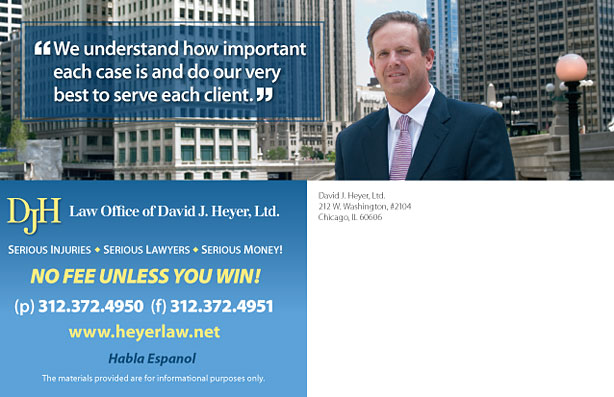 Direct Mail Postcard
This postcard is part of an overall marketing package that included a new corporate identity, website, brochure, stationery and more. The design is based on the brochure which serves as the foundation for all the other pieces. We created an English-language and Spanish-language version that is used for monthly mailings to targeted zip codes and demographics.
Direct Mail Postcard
This postcard's design compliments their website design which we also created. The purpose of the postcard is to get the word out to surrounding households within their target demographic. They wanted to include a calendar in hopes that the recipient would not simply throw the card away, but perhaps, post it on a refrigerator or bulletin board and keep the company name before them. Using the graphics from the website and a couple photos of the establishment reinforces the brand and along with the pertinent information provided gives the recipient a great snapshot of what Kubota Nikkei Mortuary can provide. We included a QR code for easy access to their website via smartphone.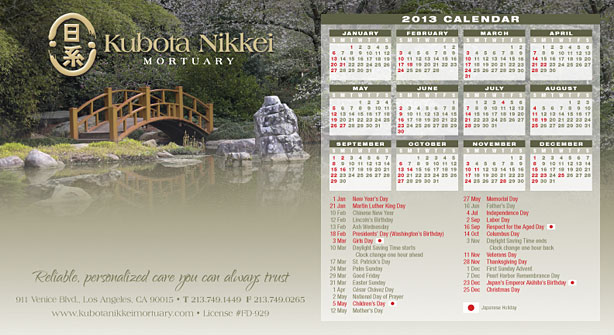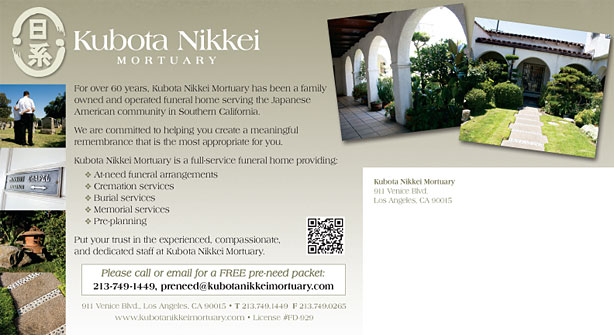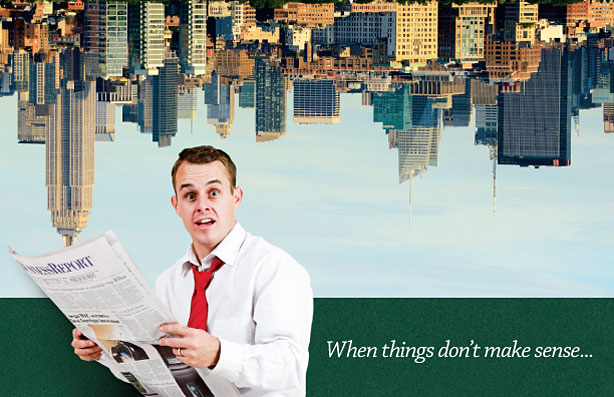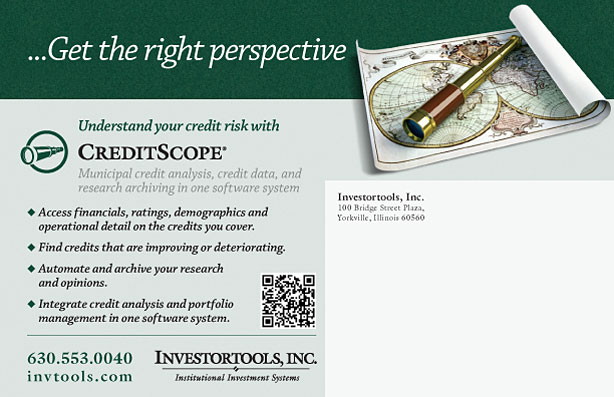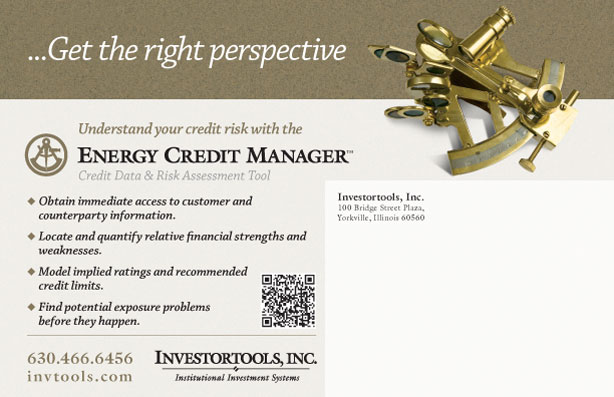 Direct Mail Postcard
Investortools wanted to do a targeted mailing to their potential customer base through postcards for highlighting each of their product offerings. Therefore, the postcards use design elements from the product brochures to create a visual connection to the product brand. Things like, graphics, color, fonts were all mirrored from the product brochure. They wanted a concept to go with the headline "When things don't make sense"…"Get the right perspective". The concept being that the financial world is upside down these days, and to be successful you need the right perspective. Investortools products give financial managers the proper perspective. Each postcard is done as part of a series using the product's distinct brand and color to set them apart.
Trade Show Standalone Display
Investortools needed graphics for their trade show booth displays they use at their various conventions and trade shows. For the general booth design we needed to incorporate all the product brands, yet somehow tie-in to the nautical theme in common with all the product brands. We chose a sailboat gliding gracefully on sparkling waters to suggest that's what their financial future will look like after using Investortools financial products. The Energy Credit Manager display uses their product brand, and borrows from some of the design elements of the brochure, to create a visual connection with the customer.